News
Deleting Twitter/X profile
2023-10-22 14:25:25 UTC+0
Starting from next year, I'm going to delete my account on Twitter/X. This means that starting from January 2024, you will not be able to follow what I do using the social network site. Instead, I recommend you follow me through the following methods:
---
More info
Add a comment
---
Downloads on the markusmaal.ee website!
2023-10-08 11:43:54 UTC+0
Starting from today, you can download stuff I've made from the markusmaal.ee website! For this, just click Downloads button, choose a desired category and the downloadable item. From the download page, you'll find the description, screenshots and download links with checksums!
---
More info
Add a comment
---
Big changes coming to my YouTube channels
2023-09-18 18:23:31 UTC+0
You may have noticed that I haven't posted any new videos throughout the last couple of months to MarkusTegelane, MarkusTegelane+ and Markus' stuff channels. That is because I haven't had a desire to make any new content to these channels. The motivation has been gone for various reasons, but two more important reasons are lower view counts and the fact that I haven't been satisfied with the quality of the past videos I've posted on my channels.
---
More info
Add a comment
---
Moving markusmaal.ee to Cloudflare
2023-08-21 14:32:36 UTC+0
For various reasons, I have decided to point the nameservers of markusmaal.ee to Cloudflare. For visitors, this might mean that access to the website might be temporarily unavailable.
---
More info
Add a comment
---
English language option on the markusmaal.ee website
2023-08-10 12:27:20 UTC+0
Now it's possible to switch to English language on markusmaal.ee website, by clicking the flag on the top part of the page. English doesn't currently work on the Markus' stuff page and channel database might have missing translations.
---
More info
Add a comment
---
markustegelane.online domain will expire on 11th September
2023-08-05 08:29:09 UTC+0
Why I'm doing this?
---
More info
Add a comment
---
markustegelane.eu domain fixed
2023-07-24 15:51:52 UTC+0
I fixed a critical problem related to the hosting server transfer, where markustegelane.eu domain wasn't working correctly (it threw a 403 error message).
---
More info
1 comment
---
markustegelane.ml domain is down at the moment
2023-01-07 17:59:23 UTC+0
Due to ongoing maintenance with the registrar, which the domain uses, the .ml domain is inaccessible and times out, when trying to connect. I have posted more details about the situation on this Twitter thread: https://twitter.com/markustegelane/status/1611778485600636929

---
More info
Add a comment
---
[Info and news] Channel handles, name change for secondary channel, community tab and more
2022-11-03 13:35:23 UTC+0
I posted a video that recaps events that have been happening on my channel: https://www.youtube.com/watch?v=jdRO8Rt6HDk

Channel handles

In case you didn't know, then my channels now have YouTube handles. Unlik channel names, handles are unique and they can only contain letters, numbers, and underscores. Handles are soon visible on YouTube comments in place of usernames, channel page, YouTube search and shorts. They can also be used to reference my channel.
markustegelane x -> markustegelane lite

The name for my secondary channel, mmaal x (markustegelane x), has changed. The new name is mmaal lite (markustegelane lite). The new
---
More info
Add a comment
---
[Video] Due to demand from viewers, I decided to publish a video, that was unpublished until now
2022-10-24 12:48:07 UTC+0
I previously promised to make a video about an interesting operating system called Momonga Linux. But after less than 2 minutes of editing, I decided to publish a video related to Windows 10 Ameliorated Edition, because I thought that would be something that the wider viewer base would be interested in.
This is why the Momonga video was left unpublished. After uploading the Draw Batch video, I decided to start using a new editing software - DaVinci Resolve. After beginning the use of this program, I still had Windows 10 Ameliorated Edition and Momonga Linux videos, which hadn't been fully edited yet, which is what one of the obstacles was - I had to somehow finish editing them using DaVinci Resolve (or continue using kdenlive). I decided to render the remaining parts of Windows 10 Ameliorated Edition video in kdenlive and then complete the rest using DaVinci Resolve.
After publishing that video, I discovered several other interesting topics, which I wanted to make a new video about and the Momonga Linux video just kept being postponed. And this is where we are today. I wasn't sure if finishing the editing process and publishing the video would be interesting to my viewers, so I decided to upload the first 1.5 minutes of the Momonga video and added the link to it into a Twitter poll, where I asked if I should publish the full version of this video. There has been 1 "Yes" vote on the poll so far (keep in mind, that I can't answer the poll myself). Since the result of the poll remained at 100% yes and 0% no, I decided to finish the video and bring it to you.
---
More info
Add a comment
---
Fixing broken download links
2022-10-18 15:30:51 UTC+0
I discovered, that a large number of the download links, which are in my video descriptions, were either unavailable or required additional access. So, I decided to check all of my videos and change either access settings (for Google Drive links) or replace the download link entirely.
Keep in mind, that I only checked the download links in video descriptions. In case the download link is in the video or in a comment, those links might still not work.
In case you find a download link, which doesn't work or requires additional access, please let me know immediately on the feedback page: https://markustegelane.online/markustegelane/?doc=feedback&s=1 or via the channel e-mail [email protected]. You can also add a comment below the video in question.

---
More info
Add a comment
---
[Second channel] Changing the name
2022-10-16 19:24:42 UTC+0
With this blog post, I am announcing that the name for my second channel, mmaal x (markustegelane x), is changing. The new name is going to be mmaal lite (markustegelane lite). The new name reflects the so-called lightweightness of the channel, more specifically of its content. The main reason, I decided to change the channel name was that the mmaal x (markustegelane x) wasn't really an easily understandable name for the viewers and it might also cause large confusion. For example, x was in no way related to the number 10.
---
More info
Add a comment
---
[Website] The legacy version of mmaal (markustegelane) has been closed
2022-10-10 16:33:08 UTC+0
With this blog post, I am officially announcing that the legacy version of my website, http(s)://markustegelane.000webhostapp.com, was put into sleep and will not be awaken. This change will not affect any website, which uses a top-level domain, including markustegelane.online, markustegelane.tk, and markustegelane.ml, because all of these have already been upgraded to the new version.
Why was the legacy version of my website closed?
The legacy version of my website used 000webhost for web hosting, which is a free hosting service, but which had various limitations, which made hosting my personal website impossible in the long term. The biggest problem was that the free hosting services had limited bandwidth, which also meant that web pages could take a long time to load and the site was down very often. The free version also had several rules, one of which my website violated - 000webhost can only be used for educational/experimental purposes. This is also why, on 9th October my 000webhost account was blocked. More specfically, it was a 3rd party notification from SiftScience.

Will Your data, which was not in the new version of the site, now get lost?
Before moving to another hosting service, I tried to copy all of the database entries from the legacy version. As far as I know, all data was transferred to the new version. This transition took place on 10th September 2022, so if you saved some data (e.g. comments, ratings, etc.) before that date, then that data was retained. However, if you did something on the legacy version during that date (possible if your DNS was very slow) or later (only possible, if you used the 000webhostapp URL), then it's possible your data was not copied over.
How could you differenciate the legacy version and the new version?
If you open main page, in the quick access, and then the about page, you can see several logos. In case it had the 000webhost logo, it was the legacy version. In case there was a Hostinger logo, then it was/is the new version.
Does the change affect updates on existing Markus' software?
For the most part, no. If you are using the blue screen simulator plus software, then the update server should be set to one of the following web addresses (if you open these links in a browser, you should see the "403: Forbidden" error page):
If the update server is set to https://markustegelane.000webhostapp.com/app
---
More info
Add a comment
---
Transition to a new domain and hosting provider
2022-09-11 09:35:20 UTC+0
My website has now been upgraded to a new domain and a new hosting provider. In case you visit one of my older domains (including http://markustegelane.tk and https://markustegelane.ml), then you'll be redirected to a new web address - https://markustegelane.online. The new hosting provider is Hostinger, which provides more reliability than the previous provider.
Due to this, I also have a new channel e-mail address - [email protected], where you can send feedback or ask questions related to my channel or website. Keep in mind that it isn't my personal e-mail address, which means it may take some time, before I reply to your message.
All data from the previous web address should have been brought over to the new one, but if there is something, which you posted, that is missing from the new version, contact me on the feedback page or through e-mail.

The older version is still available on this web address: https://markustegelane.000webhostapp.com (this gets used by the download center batch file for example)
Functionally, nothing should be different - everything that worked before, should also now work, but in the meantime I have added some new features, which you can only access through the new domain, mainly the channel database.
On the channel database, all of the metadata for videos has been translated to English (and Estonian)! Or, at least those records, that were initially translated on YouTube. Also, it's now possible to search for videos by category and tags! In addition, it is possible to customize the result page and even how the report is outputted (HTML, CSV, or JSON format)!
New hosting provider displayed on the about page
Illustration of the redirects of the new site

---
More info
Add a comment
---
MX Linux overview on the mmaal (markustegelane) channel!
2022-08-21 16:55:06 UTC+0
I decided to make a Markus computer entertainment episode about a Linux distro, which is to this day the most viewed page in DistroWatch - MX Linux!
This distro is based on Debian Linux "Stable" branch and is a collaborative effort from the antiX and former MEPIS Linux communities. The goal of the distro is to offer an elegant desktop experience with a minimal user-side configuration, which should also be as stable and performant as possible.
The biggest quirk of the distro is the "Snapshot" function, which allows you to make an image of the active system, which you can put on the flash drive in addition to the removal of systemd, an initialization script. This distribution comes bundled with a lot of customization tools and Conky widget system, which allows you to customize the computer to your liking with as little effort as possible.
Additional information and user reviews for this distro can be found here: https://distrowatch.com/table.php?distribution=mx
In this Markus computer entertainment episode, we do the following:
Boot MX Linux from a flash drive through Ventoy
Erase the existing operating system and overwrite it with a clean MX Linux installation
We can also configure the system during installation
After installation, we restart the laptop and boot MX Linux from the internal storage
Try to get some kind of screen recording program working (a fallback will be a capture device, if nothing works)
Explore the operating system a bit and take a look at different built-in programs
Play built-in games
Experiment with the built-in calculator application
Personalize the operating system to our liking
Write, save, open, and delete a text document
Turn off the computer
This episode is also special due to the fact that I recorded the episode in 2 days. Okay, maybe not 2 days in a row, but more like 2 times in the span of 2 days. I also made a livestream about editing one part of the video. In case you haven't seen it, you can see the live stream recording here.
In the video, I also made a screenshot, which I uploaded to Imgur, using the built-in screenshotting tool.
Screenshot from the MX Linux desktop

Markus computer entertainment episode:
---
More info
Add a comment
---
The longest Markus computer entertainment episode is now public!
2022-08-06 18:14:43 UTC+0
The twentieth Markus computer entertainment episode is special in more ways than one! In addition to the fact that it is the 20th episode, I used a new faster method for making this video - editing spilt into phases. This means that different parts of editing occoured in different phases. These phases are the following:
Recording/Screen capture

Creation of project files, removing unneeded filler+blurring (the longest phase)
Beta version of the intro, remarks, overlays, 2D special effects

3D graphics

Credits

First render, video overview
Addition of missing details/corrections of mistakes (e.g. wrong episode number, unblurred spots, text formatting issues, technical difficulties, etc.)
Subtitles
(If needed) Re-rendering
I rendered this video using the DaVinci Resolve 18 software. Unlike other episodes, which I've edited with this program, this time I set the framerate to 30 fps (the other ones were rendered at 24 fps), so that the video would be as smooth as possible on 60 Hz displays, which most of my viewers use.
It's also the longest Markus computer entertainment episode ever (second episode in length that's closely behind is the Nokia C2-01 related episode). This isn't the longest mmaal (markustegelane) video however, that title goes to this video (excluding live stream archives).
Nevertheless, I tried to make a video, that is watchable and engaging from start to finish, by adding several special effects, removing as much boring clips as possible and by adding some nice background music.
---
More info
Add a comment
---
New Markus computer entertainment episode about a modified version of Windows 10!
2022-07-31 20:01:43 UTC+0
In this video I introduce Windows 10 Ameliorated Edition to my viewers! In this video I also experiment with multiple cameras, including a simple camera, overview camera, and screen capture!

---
More info
Add a comment
---
Info about stuff happening on my channel (May 2022)
2022-05-19 21:10:30 UTC+0
---
More info
Add a comment
---
A video that was taken down on my second channel is back up again!
2022-05-02 13:59:58 UTC+0
I once got a community guideline strike on my second channel with a video, which was testing how YouTube handled corrupted videos. YouTube gave me a strike shortly after the video was posted and I did not really do anything about it... until today! Since the video technically never actually broke any of the community guidelines, I decided to appeal this decision. The next day, the video was back up and you are able to watch it again!
The video in question can be found here: https://www.youtube.com/watch?v=7BIAhUo8uig
---
More info
Add a comment
---
A special Markus computer entertainment episode is coming soon!
2022-04-23 20:24:13 UTC+0
I am officially announcing that the Markus computer entertainment Season 2 special episode is being premiered on 24th April 2022, at 23:00 (GMT+3)! You should also notice that these "special episodes" are made at most 2 times every Markus computer entertainment season (the first season only had 1 special episode).
The idea of these Markus computer entertainment special episodes is that we don't just review an OS or solve a computer problem, but instead do something else, which is related to previous episodes.
In this special episode, we are taking a look at a software program, which allows you to boot multiple operating systems from a single device - MultiROM. I have used this software in some of my first season episodes, including Firefox OS and Ubuntu Touch videos.
Those of you, who have seen Markus computer entertainment videos before, will also notice that there is something weird and very different in this video. You'll understand the last sentence 26 seconds after the premiere starts.
Here are some screenshots:
Markus computer entertainment special intro
MultiROM menu
MultiROM custom recovery
---
More info
Add a comment
---
Channel website is down
2021-10-22 20:54:40 UTC+0
Due to questionable decisions by 000webhost, my website has been shut down. The website will be up in 1-2 days (dep on your DNS and how long it takes me to re-setup everything).
---
More info
Add a comment
---
Markus computer entertainment is coming back!
2021-09-13 12:50:22 UTC+0
After a long rest period, Markus computer entertainment is back!
---
More info
Add a comment
---
The old mmaal (markustegelane) website domain is in my posession again!
2021-08-02 18:29:20 UTC+0
Today, I was able to re-register my old markustegelane.tk domain, which I abandoned a long time ago. If you go to this web address, you'll see the old version of my website with a notification that says you can find the new website from another URL. Also, any old links that point to the old domain should work again and the update checker on the blue screen simulator should be working again. Still, it is recommended to use the new website address whenever possible.
---
More info
Add a comment
---
Official announcement regarding unlisted videos on my channels
2021-07-14 15:14:17 UTC+0
As many of you have already heard, just in a few days YouTube is going to change many unlisted videos to private videos (those that were published before January 2017). This change will not affect my channels tough, because I almost immediately sent a form to YouTube that says that I do not want to have my unlisted videos changed to private. This means that videos on my channels that were unlisted will still stay unlisted. In case YouTube still decides to change my videos to private, you can still find a lot of these unlisted videos on my Odysee channel and I will also try and make these private videos unlisted (according to data in my channel database).
---
More info
Add a comment
---
New game on this website!
2021-05-20 19:55:01 UTC+0
Unlike other games, that are on my website, this one has levels, sound effects, and textures! This is a port of my previous game "Crazygame 2.0" to Javascript, but this game works in any browser that supports modern web standards.
The goal of this game is to collect all coins and bring all characters to the finish line, but what makes this game interesting is that all characters move at the same time and won't stop moving, until they hit a wall. Right now you can play 3 level packs, but I am plainning to add new levels on an ongoing basiss. My favorite level right now is the 10th levvel on "Le Experience" level pack (the most difficult level).
---
More info
Add a comment
---
Website problems explained (i.e. what actually happened)
2021-05-09 13:39:09 UTC+0
Turns out, the reason why my website wasn't working is related to my own code. If I get access to my own computer, I'll resolve this problem as soon as possible. The problem was the code that connected to the database, which kept calling itself infinitely and that caused long loading and pages related to any database not working. I removed the troubling code temporarily, but soon I'll readd the working code.
---
More info
Add a comment
---
[Advert] I have a Twitter profile
2021-05-09 13:38:49 UTC+0
This is just a simple post to promote my Twitter profile. You can find it under the handle @markustegelane. It is different from my blog. On my Twitter profile, I occasionally make little random posts that you won't find on my blog. These range from random interesting things to video announcements and premiere reminders. I also retweet some posts I find cool and you may want to see. I also plan to open polls
On the other hand, this blog is mainly for major updates about new videos, the website, developments or anything that doesn't fit on Twitter's character limit.
On another note, starting from July, e-mail subscription feature will be removed from Blogger, which means I'll post links to new blog posts on my Twitter profile (starting from July). This doesn't include Estonian posts tough, so you'll have to check my blog manually to see those (once again, starting from July).
---
More info
Add a comment
---
Jump Batch - a new batch game!
2021-05-09 13:38:21 UTC+0
Starting from yesterday, you can now download a batch game called "Jump batch". The game uses ASCII graphics and is written 100% in batch. Feature showcase in the following video:
---
More info
Add a comment
---
Website is broken again and an important update on my blog
2021-05-09 13:35:17 UTC+0
My channel's website is broken again. The reason this time is related to 000webhost's servers, that no longer accept SQL commands through PHP. This is related to COVID-19 pandemic. This is a critical issue, that makes majority of the website unusable (i.e. all features that are related to databases, don't work). The only wait to fix the problem is to wait until 000webhost fixes the problem.
If you try to visit the website, you'll still be able to accept (or decline) the use of cookies, but no other feature is available for a normal user. Direct download links and download center batch file are still functional.

Download center batch file:
https://drive.google.com/file/d/10ISvjiaQRyCkTGIAx20Y529zmg2JCkLR/view?usp=sharing
If you want to visit the website in the unstable state, you need to manually add a cookie with name "cookie_ok" and value "dev". Do the latter only if you know what you're doing.
Second topic, which I want to talk about, is the subscription feature in this blog. Starting from July, you won't recieve e-mail notifications about new posts. In July this widget will also be removed from my blog.
---
More info
Add a comment
---
Website inaccessible for up to 2 hours
2021-05-09 13:33:34 UTC+0
Due to an update related to DNS records, the website is inaccessible through the normal domain (https://markustegelane.ml). This can take up to 2 hours. Identical copy of the website can be accessed at https://web-markustegelane.000webhostapp.com during the outage.
---
More info
Add a comment
---
A big update for my YouTube channel's website is coming
2021-02-26 16:41:32 UTC+0
Because of this, on February 27th 2021, the website will be temporarly closed. If you try to visit the website during the outage, you'll see this screen:
New website update screen
Different to previous versions, you won't be able to show the website in an experimental state here. I, who updates this website, has to manually set so called magic cookie, which hides this screen and shows the website in an experiemental state. This update job may take up to 24 hours.
---
More info
Add a comment
---
A new way to download files from this web site
2021-02-18 17:52:06 UTC+0
In order to make this website accessible for people, who don't have the latest web browser or who just have a slow internet connection, I wrote a download center batch file. Just download it once and extract the ZIP archive in a folder. Make sure that store.bat, bg.exe, and wget.exe are in the same folder. Then double click the batch file (store.bat) and enjoy the new way of downloading.
---
More info
Add a comment
---
A big update for this website has arrived!
2020-12-13 14:32:16 UTC+0
A day has arrived, where my website has gotten a large update. This update was neccassary for the following reasons:
---
More info
Add a comment
---
The URL for my website has changed
2020-11-11 22:00:00 UTC+0
Due to the fact that I forgot to renew my domain, I'll have to change the website URL. The new URL is https://markustegelane.ml instead of the old https://markustegelane.tk, which is not registered anymore. HTTPS and other aspects of the website work normally. http://themarkusguy.tk redirect will also be changed to http://themarkusguy.nl. This will not mean any changes to the website at the moment and a major website redesign will take place after another video has been released to my main channel.
---
More info
Add a comment
---
My website is now back! (+an explanation about why the website was actually down)
2020-06-28 15:28:20 UTC+0
TheMarkusGuy website is now back. After a long investigation, it turned out that my website had too many incoming requests (potential DDoS attack?) and my web host didn't like that, which is why they took down the site.
---
More info
Add a comment
---
TheMarkusGuy website is down
2020-06-03 15:28:20 UTC+0
Due to misunderstandings with 000webhost, the website has temporarily been closed. Access to the website arrives at the end of the week.
---
More info
Add a comment
---
This blog is in the process of moving to my main site
2020-05-25 11:15:43 UTC+0
Yes, that is right! Instead of having to separate web sites for blog posts and all of the other stuff, at https://markustegelane.tk I am creating a blog section. Currently it only shows the latest blog posts on the homepage, but I am planning to expand it in the future, including a separate page for all the blog posts and even a search feature. This is what it looks like currently: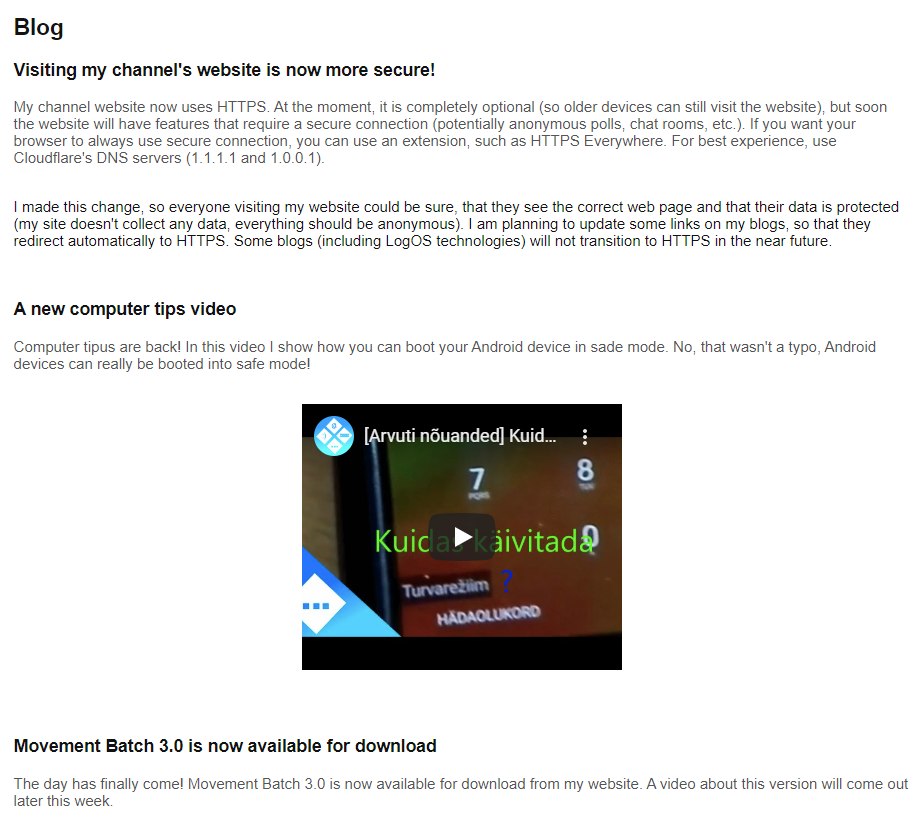 ---
More info
Add a comment
---
Important changes for the channel on December 1st
2020-05-24 10:02:55 UTC+0
Welcome back! I haven't been posting here for quite a while, but today is the day I'll do it. A reminder about the blog's activity will be posted by the end of the day in my website at http://markustegelane.tk
---
More info
Add a comment
---
Movement Batch 3.0 is now available for download
2020-05-24 10:02:04 UTC+0
The day has finally come! Movement Batch 3.0 is now available for download from my website. A video about this version will come out later this week.
---
More info
Add a comment
---
Movement Batch 3.0 - Not a long wait ahead
2020-05-24 10:02:04 UTC+0
In last year's stream, I showed the last version of Movement Batch, which is now almost finished. Tutorial levels and manuals are already done. Right now I'm optimizing the game and the editor (to avoid crashes). ERS system will be left in, but it's not going to be as important as it was in the beta version. Projected release in February.
---
More info
Add a comment
---
Visiting my channel's website is now more secure!
2020-05-24 10:01:08 UTC+0
My channel website now uses HTTPS. At the moment, it is completely optional (so older devices can still visit the website), but soon the website will have features that require a secure connection (potentially anonymous polls, chat rooms, etc.). If you want your browser to always use secure connection, you can use an extension, such as HTTPS Everywhere. For best experience, use Cloudflare's DNS servers (1.1.1.1 and 1.0.0.1).
---
More info
Add a comment
---
A new computer tips video
2020-05-24 10:01:08 UTC+0
Computer tipus are back! In this video I show how you can boot your Android device in sade mode. No, that wasn't a typo, Android devices can really be booted into safe mode!
---
More info
Add a comment
---
Back to top